Roll over image to zoom in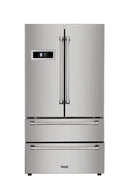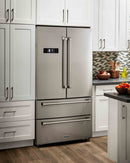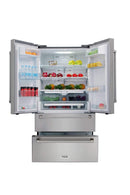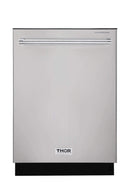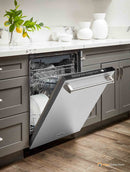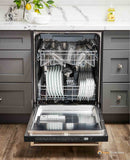 ---
Ask for Current Promotions
Free Shipping
30-Day Return Policy
Lowest Price Match Guarantee
Authorized Dealer
---
Description
Home Outlet Direct has packaged the most popular Thor Kitchen appliances into a perfect combination for our customers.
Thor Kitchen Appliance Package Includes:
--
1. Thor Kitchen 48" Gas RangeTop in Stainless Steel with 6 Burners Including Power Burners and Griddle (HRT4806U)
Six Burners

- From a high-powered 18,000 BTU burner to a steady 650 BTU simmer function, this rangetop provides the power you need for large family meals and the consistent low heat desired for cooking delicate sauces or melting chocolate
Stainless Steel Griddle - 15,000 BTU stainless steel griddle offers additional cooking space and flexibility

LED Lights - Brilliant blue LED control panel lights add a bold, stylish touch to your professional rangetop and indicate when the burners are on for safer cooking

Professional Knobs - Die cast metal burner controls provide easy access to precise flame settings

Continuous Grates - Heavy-duty continuous cast iron grates allow for easy movement of pans between burners

Porcelain Spill Tray - Black porcelain spill tray on cook top provides a professional look and makes cleaning quick and easy

Automatic Electric Ignition - Eliminates the need to manually light the burners and saves money by using less gas than a standing pilot range
2. Thor Kitchen 30 Inch Professional Self-Cleaning Electric Wall Oven in Stainless (HEW3001)
TOUCH GLASS CONTROL PANEL

- Touch glass control panel offers a high-end, seamless look and easy to clean surface
MULTIPLE CONVECTION MODES

- Convection bake allows for faster cooking times and even heat distribution as the internal fan circulates the oven's heat evenly and continuously. Convection roast mode surrounds the meat with heat on all sides, similar to a rotisserie – sealing in the juices quickly for moist and tender results.

HIDDEN BAKE ELEMENT

- The bake element is hidden under the floor of the oven creating a seamless look and eliminating hard-to-reach areas that collect food and spills, making the oven easier to clean

LARGE OVEN CAPACITY

- Large 4.8 cu. ft. oven capacity is ideal for family meals and offers you the flexibility you need to make dishes of all sizes

STAINLESS STEEL EXTERIOR

- Exterior stainless steel and glass finish offers a professional look and easy to clean surface
POWER & CONTROL

- 3500W top heater and 3000W bottom heater give you power and control while cooking anything from large family feasts to a delicate gourmet dish

SELF-CLEANING FUNCTION

- Self-cleaning function provides quick and efficient cleanup and maintenance of the oven
EASY-TO-CLEAN INTERIOR

- Blue enamel oven interior is designed for high temperature resistance and easy to clean

WHITE LED DISPLAY

- White LED display is easy to read and displays time and functions for a smooth and enjoyable cooking experience
3. Thor Kitchen French Door Refrigerator in Stainless Steel - Counter Depth - 20.85 cu. ft. (HRF3601F)
STORAGE SPACE - Generous 20.7 cu. ft of flexible storage space
SHOWCASE LED LIGHTING - LED lighting positioned throughout the interior for better visibility of food inside the refrigerator
DUAL COOLING SYSTEM - The dual cooling system maintains proper humidity levels and helps to prevent spoiling and freezer burn
AUTOMATIC ICE MAKER - Automatic ice maker for on-demand ice
DOOR STORAGE - Gallon door storage provides extra space for large containers, like milk and juice
DOOR ALARM - The refrigerator door alarm notifies you if the door is left ajar for too long
ADJUSTABLE RACKS AND SHELVES - Adjustable racks and retractable shelves are designed to provide a variety of configurations to fit wide and tall items with ease
FREEZER DRAWERS - Two separate freezer drawers for easy and organized access to the things you need
STAINLESS STEEL FINISH - Beautiful, easy-to-clean stainless steel finishes are fingerprint and smudge resistant
4. Thor Kitchen 24" Built-In Top Control Dishwasher in Stainless Steel, 45 dBA (HDW2401SS)
A QUIET 45 DBAS

- 45 decibels means you can operate your dishwasher while you're in the same room and still have a conversation and watch TV

SMART WASH SYSTEM

- Smart wash system uses a soil sensor to determine how dirty the dishes are and adjusts the Normal cycle as needed to make sure dishes come out clean

POWERFUL SPRAY ARMS

- Four powerful spray arms give you better water coverage for a thorough clean every time

ADJUSTABLE RACKS

- Adjustable upper rack can be moved to accommodate larger dishes and stemware on the bottom and a third rack is available for larger utensils

REMOVABLE UTENSIL BASKET

- Removable utensil basket makes loading and unloading utensils easy

FINGERPRINT RESISTANT

- Resists fingerprints and smudges with stainless steel that easily wipes clean

WATER & ENERGY EFFICIENT

- A multiple filtration system for optimal performance using less water and energy
Want to customize your appliance package? Ask in our Live Chat!
Shipping & Returns
Shipping
Shipping is FREE
Large appliances ship via FedEx Freight or similar courier. Delivery is curbside, meaning the carrier will drop off your item on your property not inside your home. The courier company will call ahead of time to schedule a drop off date
For more details, visit our Shipping Page
Returns
30-Day Return Policy.

If your order arrives damaged, we will exchange you for a new one

Extensions, Short Kits, Charcoal Filters, and Crown Moldings are non-returnable items. 
For more details, visit our Return Policy Page
Payment & Security
Your payment information is processed securely. We do not store credit card details nor have access to your credit card information.